Reflexa® generates wide-spread interest at Medica 2009, Germany
Reflexa® was officially presented at this years' Medica Fair in Düsseldorf, Germany.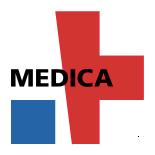 Medica fair is the centre of attraction for all those involved in the healthcare industry. This year it took place in Duesseldorf, Germany, from 18-21 November. More than 135.000 visitors from all over the world were there. Reflexa® was presented alongside the latest trends and advancements in health care industry. The event generated wide-spread interest in Reflexa Socks amongst top medical suppliers and providers!
See pictures from the event on the Reflexa Facebook page!
Try a pair of Reflexa® Diabetic now!